AC Drives
---



Introduction


One of the most sought after device when stable speed is required, AC drive refers to the device used to control the speed of an AC motor. AC drives converts the AC power into an adjustable frequency, adjustable voltage output for controlling motor operation. Changing the frequency is the primary function of an AC drive.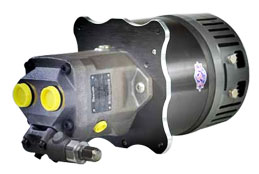 The AC motor consist of two part - a stationary part called the stator and a rotational part called the rotor. The shaft part of the rotor extends outside the motor and connects the equipment to be rotated. AC drives and motors and drives are getting increasingly used with the use of the modern PMW technology solution. The two AC drive systems used on extruders are the adjustable transmission ratio drive and the adjustable frequency drive.
Mechanical Adjustable Speed Drive: They are of belt, chain, wooden block and traction type. These drives are rarely used nowadays because it is maintenance intensive and provides only limited speed control. Mechanical adjustable speed drives are rarely used nowadays because they are maintenance intensive, have limited speed control, etc.

The adjustable transmission ratio drive: can have either mechanical adjustable speed drive or an electric friction clutch drive.



Adjustable Frequency Drive:

An AC squirrel caste induction motor is connected to a solid-state power supply for providing an adjustable frequency to the AC Motor. The AC squirrel cage induction motor has several advantages in terms of low price, simplicity, low maintenance, compact construction,etc. The cost of the adjustable frequency drive is mostly determined by the solid-state power supply.



Eddy Current Drive:

In the extrusion industry the eddy current drive has been widely applied in the past. The continuing popularity of the drive is due to the simplicity of the drive. An eddy current drive consist of a fixed speed AC motor driving a steel drum. Inside the drum the wire is wound round a rotor. By controlling the speed of the rotor, the rotor speed can be varied. Due to the simplicity of the operation eddy currents are widely used.

Advantages

Dynamic response with vector operation
Low maintenance and are suitable to harsh environments
Dynamic response with vector operation
Motor designs for extruder duty units feature high overload capabilities and very wide constant torque speed ranges.
AC motors continue to be the most moving equipment for fixed speed requirements of industry. Their basic simplicity, dependability and ruggedness make AC motors the natural choice for the vast majority of industrial drive applications.