Monofilaments Plant
---

Introduction
The word monofilament means to manufacture in a single strand. Monofilament plant system is getting widespread demand due to the diversity of the the scope of applications and the quantity of products that can be manufactured. A well advanced range of plastic monofilament plant are available in the market that can help in manufacturing an exquisite range of ropes, fishing nests, safety ropes, safety belts, webs, etc.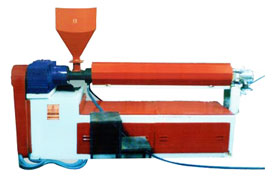 There are a number of companies that manufacture custom made monofilament machine by strictly abiding to international manufacturing practices. Machines that are manufactured using high grade steel are resistant to corrosion, have longer service like and is cost effective. As monofilament plants are highly productive and useful, the extrusion industry is rigorously trying to develop new range of monofilament plants that are more affordable in terms of operations and maintenance.




Process


Conventional and simple plastic extrusion process are used in monofilament plants. Plastic resin used could be of medium viscosity extrusion grade like Hight Density Polythene (HDPE) or Polypropylene (PP) . Compared to other extrusion processes, processing temperatures are generally kept at a higher point for monofilament extrusion. Usually, a temperature is set that is nearly 25°C more than the usual melting point of the resin.




Application


There is a growing relevance for monofilament extrusion especially when it comes to modern stadium construction. Now a days, artificial green lawn are becoming prevalently used in stadium, gardens and also in private landscaping. Perfect color combination, excellent quality of design and resistance of grass to withstand rough weather condition and tough activities, is of utmost importance. The fiber for turfs produced using the monofilament extruder are strong, durable and as colorful as the original turf.

Other than this, monofilament plants are used for a number of other applications like the the manufacturing of shade nets, anti-hail nets, agro-textile products, geo-textiles. technical textiles, safety belts, webs, ropes, brushes, bags, as structural reinforcement in concrete, etc.