Film Plant
---

Introduction
Plastic film plants are machines that are used for plastic extrusion. Blow film plants and PP and TQ film plant are some of the commonly used plastic extrusion film plants. A wide range of products are manufactured by using plastic film plants that find wide range of applications in textile industry, cotton industry, homes and general packaging applications.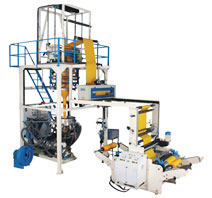 Types of plastic film plants:


A profusion of film plants with advanced technological features are available in the market. The main types of film plants that are greatly in demand are:

PP TQ film plant: This type of machine is used for producing PP or polypropylene water quenched film for various applications and customized solutions.

Blown Film Plant: These plants find the larges application in the manufacturing industry. Blown film plant can be broadly categorized into monolayer and multilayer blown film plants.




Features of the machine


The demand of every customer differs in respect to the design, quality, cost and productivity of the machines. Maximum cost-effectiveness, increased flexibility, shortening production schedule, long and trouble free operation, reduced operating costs and less power consumption are some of the important feature that a customer would look for. Film plant machines should give high performance and withstand long working hours.

The film plant manufacturing industry responds to the requirements by manufacturing machines that are easy to install and have energy saving techniques. Customized products including options for different screw size are also available. Some of t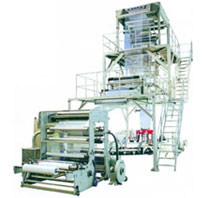 he optional devices provided with the film plants are:

Auto hopper loader
Hoist film surface treater
Rotary die
Chiller
Two station winder side open and slitting knife
Safety chuck system, etc.

Application
Film plant are increasingly being used for manufacturing products that find both industrial and household utility. The technology used in film plant is advancing day by days and so is the innovative range of applications. Film plant are useful in manufacturing agricultural pipes, shrink films, packing films, stretch film, rain wear, carry bags, roof & road construction etc. And also for packaging all type of ready made garments, hosiery, knitwear, stockings, blankets, bed-spreads, sarees, table cloths, bread, cake, buns, dry-fruits, papads, wafers, nuts, popcorns, biscuits, flowers, nursery seeds etc.