Plastic Extrusion Machines
---
Introduction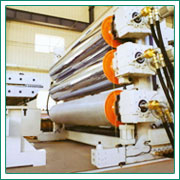 With technical knowledge and engineering skills plastic resin can be converted into any desired shape. Plastic is one such material which in its variety of designs and colours find widespread application in homes and industries. Industries largely use the plastic extrusion process to shape the products, for which a variety of sophisticated extrusion machines with unique features are available in the market.

An extrusion machine consist of various component for the various stage of the extrusion process. The entire process can be fully automated. Plastic can be extruded in the continuous and semi-continuous manner and in various shapes like round, rectangular, tubes etc. The resin that is introduced into the machine, get melted and eventually forced out through the die. The design of the die decides the ultimate shape of the product. Plastic solidifies on cooling. After which the plaster is cut in section according to the required size.

Types of extrusion machines: Basically, an extruder machine consist of a feed screw, barrel and temperature controller. But the design and features of the machine depend of several other factors like the type of material to be extruded and the design of the product. A profusion of plastic extrusion machines are available in the market, some of them being:

HDPE pipe Extrusion line
Plastic Sheet Extrusion Machine
Blown Film Plant
PP TQ Film Plant
Multi layer Blown Film Plant
Cast Film Line
Raffia Tape Stretching Line
Air Bubble Sheet Plant
PP/HDPE Box Strapping Plant
PET Box Strapping Plant
Extrusion Coating Lamination Plant
PP/HDPE/PET Monofilament plant
Synthetic String Plant (Sutli Plant)
PET Recycling Plant
HDPE/RPVC/PPR Pipe Plant
Features of machines


Plastic extrusion machines can be either standardized or custom made. In either of the case some of the feature of the machines are to paid special attention so as to get optimum productivity and quality.



| | |
| --- | --- |
| Design characteristic | Design of a extruder machine can be optimized by using durable head. Robust and sophisticated construction methods must be used for fabricating a extruder machine. At the same time the maintenance and operations of the machines should be easy. |
| Flow channel | Flow channel should be able to handle the material The length of the flow path should be kept in proportion to the requirement of the material. |
| Tooling | Screw design greatly influences the machines output. |




Application


The application of plastic is highly relevant both in industrial, commercial and domestic sector. Some of the commonly used plastic extruded products are release paper, soft food packaging, medical packaging, paper packaging, industrial packaging, pipe, blown film, coated paper, plastic filaments for brush bristles, carpet fibers, vinyl siding, and many more.