Hot Extrusion
---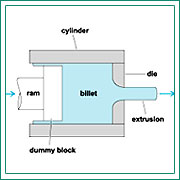 Hot extrusion is one of the most popular method to develop objects having a fixed cross-sectional profile. This extrusion process is done at increased temperature, which keeps the materials from work hardening along with making the procedure of pushing the material through the die simpler. In general, a large amount of hot extrusions are done using horizontal hydraulic presses that belong to the range of 250 - 12,000 tons. Here, the pressure range is 30 to 700 MPa (4,400 to 102,000 psi), hence lubrication is needed. This lubrication can be done by glass powder in case of higher temperature extrusions and graphite or oil for all the lower temperature extrusions. Though the hot extruded materials are highly preferred, hot extrusion has couple of disadvantages associated with it that are the cost of extrusion machines and their upkeep.



Applications of Hot Extrusion


The hot extrusion process is widely used to manufacture products from Aluminium, Copper along with their alloys.
Some of the products that are developed using this process are Electrical Wires, Bars and Tubes.



Hot Extrusion Temperature for Various Metals
| | |
| --- | --- |
| Material | Temperature [°C (°F)] |
| Magnesium | 350-450 (650-850) |
| Aluminium | 350-500 (650-900) |
| Copper | 600-1100 (1200-2000) |
| Steel | 1200-1300 (2200-2400) |
| Titanium | 700-1200 (1300-2100) |
| Nickel | 1000-1200 (1900-2200) |
| Refractory alloys | up to 2000 (4000) |

On the basis of material to be extruded, the hot extrusion process can be economical, when many tons and several kilograms (pounds) are being produced. Also, a crossover point is achieved where the roll forming further becomes cost-effective. For example, if steel is produced in excess of 20,000 kg (50,000 lb), then its rolling becomes very economical.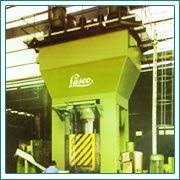 Hot Extrusion Process Using Aluminum Alloy


Aluminum alloy is used to manufacture various profiles, by the application of hot extrusion process. The entire process is carried out using Extruder and Extrusion Machines that are specially created to comply with the Extrusion Technology. The entire process is detailed below:
The alloyed press bars that are cut into smaller pieces, are heated in an induction furnace to 450 to 500°C.
Then the bar is pressed with extremely high force through a hollowed tool, at a speed between 5 & 50 m/min.
Consequently, a profile is formed that has the length in the range of 25 to 45 m.
Right after the completion of pressing operation, air or water is used to cool the profile.
Just after cooling, the profile is straightened and all the internal stresses are released by the process of stretching, which is done in a pulling machine.
The resultant profile is then cut into the desired lengths.
Finally, the process of ageing provides the material the required strength. The ageing process can be done naturally at normal temperature or artificially at an elevated temperature in the range of 170 to185°C.