Synthetic String Plant
---



Introduction


Synthetic string (sutli) plant is the plastic extrusion plant where plastic string is extruded. Especially in the packaging industry plastic string are used extensively.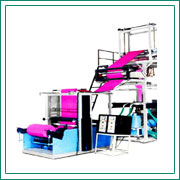 Plastic sutli plants with high output and less energy consumption are required. There are wide range of synthetic string plants that are used to manufacture string using PP synthetic jute, polymides,etc. Machine made from special Nitro alloy steel gives long and trouble free operations.

Due to environment, economical and other issues strings made from natural materials like coconut fiber and cat gut is being largely replaced by synthetic string. The synthetic string machine manufacture are constantly trying to develop synthetic string plants that will enable manufacturing synthetic strings that can suitably replace the one's manufactured from natural materials. In addition, innovative range of machines are developed for new and varied applications. At the present stage of technology, synthetic strings that are manufactured meet virtually all requirements in regards to wear resistance and constancy of tension in all climates.




Process


Different types of synthetic string plants are available that help in manufacturing different types of twisted string, untwisted synthetic string, etc. Some techniques used to manufacture synthetic string are elucidated here:

Untwisted synthetic resin string: In one method of manufacturing, melted polymer is passed through rolled portions, with each roll moving inward towards each other, The opposite edges of the strip of thermoplastic resin film is stretched longitudinally.

Twisted strings: Synthetic film or split yarn is obtained by slitting a stretched synthetic resin film. Stretched synthetic resin is then mechanically twisted.



Quality of the machine
The synthetic string plant should have excellent shock-absorbing properties, bulkiness, uniformity, tensile strength and binding ability so as to be able to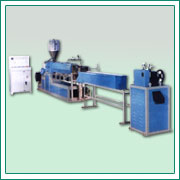 manufacture strings which are lightweight, flexible and free of fluffiness. Other qualities that are essential for the machine are:

High productivity
Durability
Compact design
Customer friendly
High speed strapping

Application
Plastic string also know as sutli is used extensively for packaging things both at homes and in industries. Plastic string are reliable and perfect substitute for jute sutli and twisted rope making. Synthetic resin strings are also used for automatic packaging or binding machines, agricultural binders, hay balers and also for handicraft knitted articles. Plastic strings are also used in ball rackets and musical instruments.