Compound Extrusions And Foam Extrusion
---

Extrusion compounding, compound extrusions or compounding extrusion is a pre-process for the other process of thermoplastic injection molding. This is the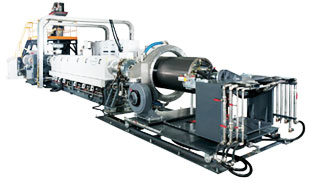 process in which one or more polymers are mixed with additives to get qualitative plastic compounds. The developed product is mostly in pellet form irrespective to the type of feed that may be powder, pellet, and/or liquid. This product is used in various other plastic forming processes like injection molding and further extrusion. The size of machine which is required for this process ranges from small lab machines to the biggest extruders available in the industry. These run at the rate of approximately 20 tons per hour and are used by various chemical companies which are producing the base resins.

In this process, generally the preference is given to twin-screw extruders as these provide improved mixing at the lower melt temperatures. A large number of these extruders have barrels and screws that include smaller segments like venting, mixing, conveying, and additive feeding that allows the design to be changed for meeting production as well as product requirements. However, single-screw extruders can also be used for this process, especially when suitable screw design & static mixers are present after the screw. Further, along with the equipment, the selection of components to be mixed such as viscosities & additive carriers is also very important.



Foam Extrusion


The process of foam extrusion is used to develop plastic sheets having a cellular construction. In this process, during the preparation of melt inside the extruder barrel, a gaseous or a chemical blowing agent is added to the polymer melt. After this, the plastic melt leaves the die and successively expands to a preordained amount to form a cellular wall.

This process is carried out in a foam extrusion machine, which has a sealed chamber where the extrudate is extruded. Depending on the conditions, the chamber may or may not be subjected to some pressure variation like vacuum. The controlled shape of the plastic is obtained by using power driven rolls inside the chamber and downstream of die.

Inside the chamber, the environmental conditions are very harsh. Hence, it is recommended that the forming or shaping rolls should be driven by some externally powered source. This will ensure that the rolls are not subjected to the harmful conditions like vacuum, pressure, etc., that are present inside the chamber.

The drives' external position with respect to the chamber allows the complete system to keep running during its opening and making the needed repairs or adjustments. The chamber is generally the upper end of barometric leg in which the extrudate is passed. To close the upper end of chamber, one or more bulkheads are used. These bulkheads are easily movable in the same as well as opposite direction of the chambers' upper end.